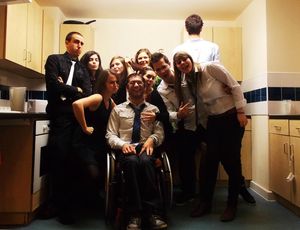 Erasmus is one of the best experiences in a student's life. It is an exchange program which allows the student to travel and spend one semester or more to study at a University from another European country.
This little post is dedicated to all my friends. Thank you everybody for what you have done for me.
Let's begin with Amy, Emma and Maddison. They were the first girls I met in Sheffield. We saw each other a lot and spent some very good moments together. Then, Rocío and Mario come from Sevilla in Spain. As everybody knows, I am very curious and I like to speak several languages including Spanish. We befriend like that, talking about our studies, passions and all this in Spanish. It was really interesting and useful because thanks to them I have not lost my Spanish skills during my trip here in Sheffield.
Tom is the tallest of the group (it is not a joke you can judge it by looking at the picture). He is also a really nice guy who is interested in many things. It has been a pleasure for to talk with him. Josie, Tom's girlfriend has also been there for me when I needed. Not only to help me with my works but also to listen to me and give me advice.
Finally we can focus on the French team as I like to call them. Pierre is one of my best friends here in Sheffield. He has always been here for me and I'm sure he will be in the future. I also know that I can rely on Audrey and Cédric.
As a conclusion, I can say that you are the best human beings I have ever met in my life! My trip in Sheffield almost comes to the end! Thank you, Gracias, Merci. See you soon guys...